Keeping up pace with the technological advancements that are taking place in the market day by day, we, Prabhat Textile Corporation, are emerged in the industry as major Manufacturer, Supplier and Exporter of Calendering Machine, Baby Felt Calender Machine, Fabric Calender Machine, Chainless Merceriser Machine, Textile Calendering Machine, Textile Drying Machine, Automatic Textile Calendering Machine, Compressive Shrinking Machine, Textile Padding Mangle, Duplex Felt Machine etc.
Company Brief
Our dexterous team of professionals fabricate all the machines, rolls and many other offered products as per the industrial standards. Our products are famous for showcasing robust structure, fine polishing and smooth finishing. With wide usages of these Paper Calendering Machine, 4 Roll Calendering Machine, it helps our customers in calendering an optimum amount of fabrics and paper in a short span of time. Since the establishment of firm in the year 1968, we have made a huge clientele by offering standardized machines. With sheer dedication of our experts in rendering prompt services, we have made our most of the clients to place repeated orders with us. With the support of Mr. Ketan(Director), our company has grown at a stead pace and over the years we have become important business entity in the industry.

Products Offered by Us
Our product range encompasses the following:
Calender Machines

Baby Felt Calender Machine
Two Bowl Calender Machine
Three Bowl Calender Machine
Five Bowl Calender Machine
Seven Bowl Calender Machine
L Type Three Bowl Calender Machine
Heavy Duty Three Bowl Calender Machine
Embossing Calender Machine
Fabric Calender Machine
Felt Calender Machine
Friction Calender Machine
Hoisery Calender Machine
Jute Calender Machine
Paper Calendering Machine
Super Calender Machine

Polyamide Calender Roll
Calender Steel Roll
Chilled Cast Iron Roll
Cotton Roll, 4 Roll Calendering Machine

Wooden Paper Bowl Roll
Steel Bowl Machine Roll
Chain Less Merceriser Machine
Compressive Shrinking Machine
Duplex Felt Machine
Textile Drying Machine
Dyeing Jigger Machine
Zero Rubber Blanket

Our Team
To operate successful business transactions, one must posses an adroit team of professionals who hold wide experience and knowledge of the industry. Thus, we are backed with a competent workforce, members of which are expert in their respective domains. The human resource team consists of managers such as Supervisors, Marketing, Production, Engineers, Assistant Engineers, R&D personnel and Technicians. They work in synchronization with each other, to fulfill the requirements of the patrons. They are committed and dedicated to work that helps our company to increase its productivity in a limited time frame.
Clientele
Through our hard efforts of more than 40 years, we have attained a supreme position and a huge customer base. Some of our major clients are mentioned below:
Sri Vidya Mills, Erode
Vijyeshwari Processors, Coimbatore
Fabricare Textile, Bangladesh
Silp Mitr Dyeing & Printing, Thailand
Anjani Synthetics Ltd., Ahmedabad
Jindal (India) Mills Ltd., Ahmedabad
Sri Murugan Bleachers, Erode

Quality Policy
We are following a rigorous quality controlling process in all our projects that enables us to offer high quality Calender Machines, Rolls and all other products to the customers. In all the processes such as production, we focus on using A grade quality of raw material along with having stringent monitoring of manufacturing process so that clients get the best. The quality testing of these machines are conducted on the basis of national and international parameters. Implementation of these standards along with superior technology permits us to design and develop premium quality range and deliver the same to clients.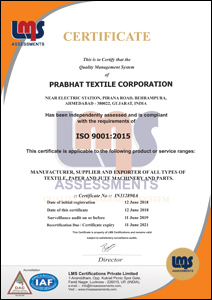 Read More